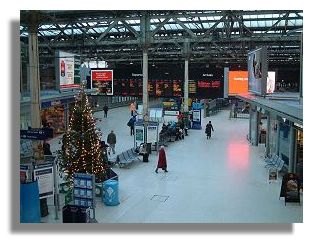 This Monday was a Monday holiday... in Edinburgh, which meant that the primary groups which feed into DIME were having their over-night mini-residentials at Scoughall, near North Berwick. last year we hadn't enough people to do all the tidying up on the Sunday, so, since Uni is still on holiday, I offered to go through and help tidy up and do the cleaning etc. I got the train through to Edinburgh, then blundered round trying to find the North Berwick train because non of the information screens at Waverley were working, and the announcements were incomprehensible.
Upon leaving the station, I wandered along until accosted by an Arnold Clark minibus with Finn and the activity groups in it. They were off to do Abseiling at North Berwick Law (funny how the kids think abseiling involves water...but then again most of them had never heard of it before). Whilst the activities of the morning continued apace, I cleaned the toilets and swept floors, tidied kit away and such like, until we were ready to leave about 4pm.
North Berwick is like Edinburgh's seaside, in many ways and as students it was where we used to go if we wanted to go somewhere that wasn't Edinburgh, but was close by (40 minutes on the train). We had BBQ's, fish & chips and even played frisbee on the beach at 2am one memorable February Sunday night.
It is also a bit of coast I have walked quite often, and even cycled along from North Berwick to Scoughall, when it was getting a lick of paint in advance of the 50th anniversary of camps on the site, back in 2003.